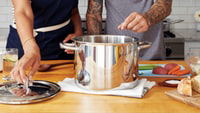 WE'RE RECRUITING MORE TRUSTEES
Laurence's Larder provides a meal, essential groceries, washing facilities and company for those struggling to make ends meet. We are looking for trustees to help provide leadership and effective governance as we embark on a mission to address some of the causes of poverty in our community.
With the help of our first paid manager, the board is about to embark on an ambitious programme to better understand the needs of the poor in our community so that we can not only provide immediate relief but also address some of the underlying causes and focus our resources where they can be of most help.
We are looking for trustees to join our board who:
are passionate about our cause and understand our mission
have consummate networking skills and experience of building strong relationships to achieve organisational aims
have time not only to attend meetings but also to work with Larder colleagues to contribute to a particular area of work.
To apply send your CV and a covering letter saying why you would like to be a trustee and what you would be able to bring. Please email them to
info@laurenceslarder.org.uk
Closing date: Friday 28 May 2021
Interview date: To be agreed with shortlisted candidates